Biomass heating plant Wagrain
Design and delivery of a 2 MW absorption heat pump for active flue gas condensation.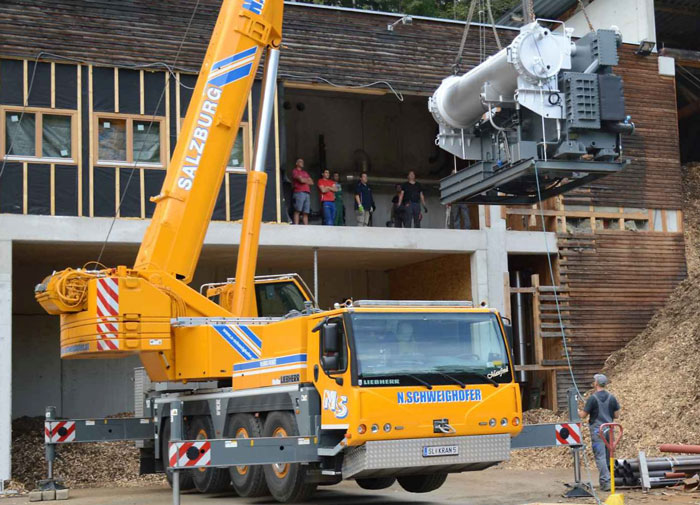 For the expansion of the heating plant in Wagrain, StepsAhead simulated the design of the entire heating plant in Ebsilon. This allowed to find a perfect match for the temperatures and outputs of the boiler, the flue gas system and the heat pump.
This optimized heat pump was delivered and commissioned in October 2020.
The flue gas condensation system is supplied with cold water of 21°C by the heat pump at full load, while temperatures down to 15°C are achieved at part load.
When fuels with a high water content are used, the energy harvested from the new flue gas system reaches up to 49% of the heat produced by the boilers. This additional energy is fed into the district heating grid and reduces the fuel consumption significantly.
Biomass CHP station Klagenfurt Nord
The Klagenfurt Nord project was the follow-up project to the Klagenfurt Ost CHP plant, in which a similar absorption heat pump had already been installed a year earlier.
Flue gas condensation in a biomass CHP plant (25 MW)
Commissioned January 2018
The heat pump supplies 12 MW to the district heating network, 5 MW of which is recovered from the flue gas.
At the same fuel consumption, the output of the combined heat and power plant is increased by approx. 20%.
Customer website:
Brickwork Wienerberger Uttendorf
Recovery of waste heat from the brick drying process
Commissioned June 2018
Up to 3.8 MW heat production. 1.44 MW are recovered from the moisture-laden exhaust air from the brick drying process.
The heat pump is driven by exhaust air from the brick kiln with a temperature of approx. 400°C.
The expected utilisation is more than 8000 operating hours per year.
Project description by Wienerberger (in German language):
STEPSAHEAD always supplies each customer with the detailed design of the heat pump for the nominal operating point and, on request, produces characteristic diagrams for the customer's entire operating ranges.
Simulations of the overall system with heat pump have, for example, been created for the following customers/sectors:
Biomass boilers and district heating
Nahwaerme.at
Bioenergie Köflach
Wien Energie
Dalkia
Vattenfall
etc.
Waste heat utilisation:
Paper industry
Building materials industry
Gas engine CHP plants
etc.